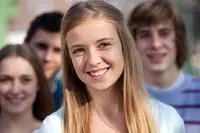 Depression
Anxiety
Parenting and Family Issues
Relationship Problems
Teen Development Questions
Emotional Acting Out
Dating Confusion
Conflict Resolution Skills
Anxiety from Perfectionism
Communication Skills
Suicidal Ideation
Social Skills Building
ADD and Learning Issues
College Adjustment
Improving Insight
Panic Attacks
Academic Concerns
Blended Families
Adjustment to Divorcing Parents
Self Injury
Being a teen during Covid has been a nightmare. Which means that parenting teens has also become more challenging. As a parent of a teen have you ever felt like you were in over your head? Have you wondered if a problem is serious? Or been unsure if the behavior you are seeing is just a "stage"? More and more these questions get blurred in the activity and the social minefield of teenage life. These factors can make parenting (the way you had imagined parenting) your teen a true mess. We would like to help.
There are some real changes to adolescent life that most parents did not have growing up. Academic pressure, texting, social media, Google, more mobility, increased exposure to sexual material, alcohol, drugs, and more blended families all simply add stress to an already stressful stage of life. Parents often now are away from their extended families and have fewer resources to turn to when things get tough in their teen's life. On the plus side, teens today are more open to help now than other generations and more savvy at knowing when to ask.

Or maybe your parenting relationship is fine but you feel like your teen could benefit from a place to gain more tools for their mental health tool kit. Perhaps they are overwhelmed with their first serious heartbreak and a neutral party could help them better define their own boundaries.
WE LIKE TEENS! It can be a great stage of life. We recognize the resiliency and drive teens have; that allows us to get a look at the inner world of your teen and therefore help develop strategies specifically for what your teen is going through. We'd be honored to help your teens make the changes that will allow them to live healthy and happy lives.
When the stress your teen is facing is impacting academic performance we can and do work collaboratively with local schools. We are familiar with the cultures at schools such as Nagel Junior High, Turpin High School, Anderson High School, Miami Valley Christian School, Loveland High School, Mc Nicholas High School, Cincinnati Country Day, Summit Country Day, St. Ursula Academy and The Seven Hills School to name a few.
Even the best of families can still have times where an outside compassionate, neutral party could be useful. Let us help clarify what concerns you. Everyone needs a hand now and then.